Main content starts here, tab to start navigating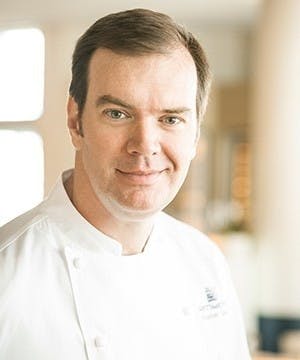 Chris Siversen
Executive Chef-Owner
Chef Chris Siversen's menu is refreshingly straightforward: a beguiling blend of classic combinations and techniques imbued with just enough personality to add interest and vitality.
Siversen's philosophy is a perfect fit with Maritime Parc's timeless coastal setting and modern design sensibility. His menu brims with dishes that feel familiar and accessible but surprise and delight with bold flavors. His menu represents the ultimate summation of his life and career to date. The restaurant's setting flanked by the Liberty Landing Marina feels like home to Siversen, who grew up in Merrick, Long Island in a family obsessed with boats. His first kitchen job was even at a fish house in his hometown.
After discovering his calling, Siversen studied at the French Culinary Institute in New York City, he cooked at such landmark restaurants as Alison on Dominick Street and the '21' Club and ran the kitchen at Pamela Morgan's Flavors. Most recently, he spent almost ten years creating and overseeing menus for the Glazier Group's successful catering businesses, such as Twenty Four Fifth and Bridgewaters in Manhattan, and the Westminster Hotel in Livingston, New Jersey.
Along the way, Siversen has cooked for Martha Stewart and Steven Spielberg, for the runway shows of Versace, Armani, Chanel, and Marc Jacobs, and for Presidents Bill Clinton and George W. Bush.