Bid Adieu to 2019 in Grand Taste.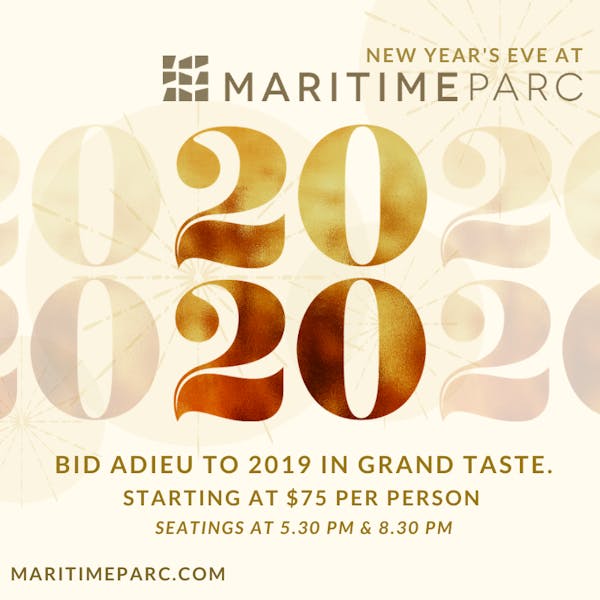 With a year that may be remembered for notoriously bad taste, assure your start to 2020 is in excellent taste with either of Chef Chris Siversen's prix-fixe menus.
If your plans call for painting the town red, seating for our three-course menu is the perfect way to begin the evening, timed perfectly for 5:30PM and offered at just $75 per person. Our five-course 8:30PM seating is the perfect answer for those seeking to send 2019 packing in good taste and style, with a complimentary champagne toast for when the ball drops. Elevate your experience further with an optional chef-paired wine tasting - offered for an additional cost of $45 per person for our three-course seating and $90 for our five-course - and/or add shaved white truffles to your first course.
Availability is limited. Reserve your table by clicking here or call us at 201.413.0050 today.
NEW YEARS EVE 2020 AT MARITIME PARC
seatings available at 5:30PM for three-course // 8:30PM for five-course
THREE COURSE PRIX FIXE
$75 PP – tax & gratuity additional
chef paired wine tasting +$45 per person


FIRST COURSE - select one
Bay Scallop Crudo
fine herbs, tempura drops, crème fraiche, fennel, maitake frascatelli, pecorino, black pepper
add shaved white truffles $30pp
Caviar & Burrata Salad
radicchio, vin cotto, dried figs, crispy herb salad

Octo Amatriciana
strigoli, pancetta, oregano, parmesan

ENTRÉE - select one
Duck
rye berries, yuzu, turnip, ginger gastrique

Lobster
beet puree, beet chips, tarragon pesto, sherry-lobster emulsion

Cobia
crispy sunchoke, nebrodini conserva, apple cider bordelaise, brussels sprouts leaves

NY Strip Steak
smoked potato puree, creamed kale, kale chips

DESSERT - select one
Mallomar
white chocolate praline crunch, honey marshmallow, salted caramel, lavender ice cream

Milk and Honey
tres leches chiffon cake, milk jam, earl grey ice cream
FIVE COURSE PRIX FIXE
$150 PP – tax & gratuity additional
chef paired wine tasting +$90 per person
FIRST COURSE
Bay Scallop Crudo
fine herbs, tempura drops, crème fraiche, fennel, maitake frascatelli, pecorino, black pepper
add shaved white truffles $30pp

SECOND COURSE - select one
Caviar & Burrata Salad
radicchio, vin cotto, dried figs, crispy herb salad

Octo Amatriciana
strigoli, pancetta, oregano, parmesan


THIRD COURSE - select one
Duck
rye berries, yuzu, turnip, ginger gastrique

Lobster
beet puree, beet chips, tarragon pesto, sherry-lobster emulsion


FOURTH COURSE - select one
Cobia
crispy sunchoke, nebrodini conserva, apple cider bordelaise, brussels sprouts leaves

NY Strip Steak
smoked potato puree, creamed kale, kale chips

DESSERT - select one
Mallomar
white chocolate praline crunch, honey marshmallow, salted caramel, lavender ice cream

Milk and Honey
tres leches chiffon cake, milk jam, earl grey ice cream